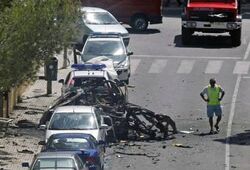 The 2003 Cape Cross bombing was the deadliest attack carried out by Barzona Libre, a marxist terror group.
Background
Edit
Inspired by the ETA and their campaigns in Spain, BL began to mount a resurgence in the late 1990s. They were behind a string of bank robberies undertaken between May and November 1999 in Grijzestad and Koningstad, where Th. 12,000,000 was stolen. To show the government that they were still around, BL planned for a massive attack. With much heightened security in Koningstad, it was decided to stage the attack elsewhere. Preparations began in 2001 and the target city selected was Cape Cross.
The BL felt they needed a distraction to keep the police and Royal Guard away from Cape Cross. Early on June 14, 2003, BL members set fire to a mailbox in downtown Koningstad and kidnapped a German tourists. Police got word of this and Koningstad became paralyzed, with police concentrating their actions there.
The attack
Edit
As police were trying to free a hostage in Koningstad, BL set up a car bomb in St. Peter's Place. At 9:54 AM the bomb exploded, killing two passerby's and injuring three others. Four minutes later, a series of bombs exploded in Carrington Place, close to the President Henneman's private residence. The crowded plaza was full of shoppers and tourists, and the bomb left much damage. 23 people were killed by the bomb itself, and 54 others were gravely injured. Armed gunmen then opened fire and and wounded 10 others.
Police responded relatively quickly, but they had not been expecting an attack, much less one of this magnitude. Paramedics were called in to take care of the wounded and police stood guard to ensure no subsequent attacks. The six perpetrators left in two cars; two of them were detained by police outside town and were arrested following the discovery of weapons. The other four managed to escape but were captured the following week by police.
Aftermath
Edit
After this there was lots of backlash against BL. People held protests, vigils and there was heightened security in Cape Cross Parish. It would be three years before BL carried out another attack.
Community content is available under
CC-BY-SA
unless otherwise noted.