This page or section is a work in progress.
You are welcome to help in its construction by editing it as well.
If in doubt, please contact the most recent editor, 77topaz.
2019 General election
---
---
| | |
| --- | --- |
| Prime Minister before election | Prime Minister |
The 2019 general election is the next general election in Brunant, to be held on Monday 4 February 2019. The election will pit the governing center-right minority coalition of the Christian Democratic Union and Free Liberal Party against the center-leftist parties which have been involved in government since 2009.
Background
Edit
Following the kidnapped soldiers scandal and appointment of Adrian Vandreck as interim Prime Minister, elections were set to be scheduled within the coming months. On 25 November Vandreck's government announced a date of 4 February. Yes to the Future has expressed dismay at such a long period before calling elections, and having them.
The Social Democrats held an election in December and selected Jazinta Benaid as their leader.
The Green Party was dissolved in 2018 and the Social Anarchy Party did not participate.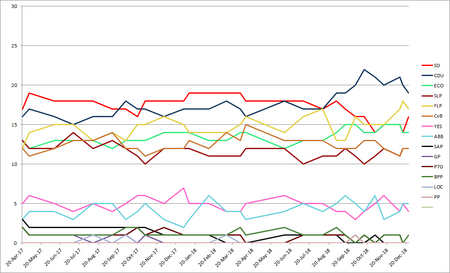 Polling since the 2017 general election had put the CDU roughly on the same percentage point as the SD, but from October 2018 the SD support has fallen, with the CDU being the highest-polling party.
Preliminary results were announced at 22:00 on 4 February, with the final, official results published on 8 February.
Government formation
Edit
The lack of any clear block able to form a majority foreshadowed a similar formation to the one in 2017. A CDU-FLP-CvB government formation was in the works from the start, though it became apparent there would be no outside support from these to ensure it became accepted. SLP announced they would no longer back any government proposal with the SD, essentially ending the hopes of a leftist government. In what became a final nail in the coffin to remnants of the decade-governing leftist coalition, ECO17 proved willing to work with CDU and FLP, provided Vandreck and the CDU would not hold the post of Prime Minister. A Better Brunant announced it could conditionally support this proposal and government, but would prove unwilling to join it.
Eventually on 16 May 2019, the deal for a CDU-FLP-ECO17 government, with ABB support, was hammered out and received by the queen, with Eric Peitersson as Prime Minister.
Community content is available under
CC-BY-SA
unless otherwise noted.