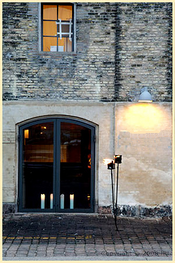 Alchimie is a restaurant in Roodstad, Brunant. An award-winning restaurant, it is located in the town's historic district. Alchimie was named "Best Restaurant" by Monde Culinaire a record four times.
Alchimie is all about creating a "culinary alchemy" and combining distinct flavors to create a unique and modern play on Brunanter food.
Alchimie was founded in 2003 by well-known chef Florian Simon, a chef heavily involved in the development of modern Brunanter cuisine. In 2006, he handed over the restaurant to his daughter Béatrix, who is one of the most successful Brunanter chefs in the country and has managed to turn Alchimie into one of the best restaurants in Brunant, earning her a Michelin star in 2012 and a second one in 2017.
LUNCH MENU
60-
Cheese-confit crisps, tomato-stuffed chicken, asparagus, orange-chocolate mousse
DINNER MENU
70-
Bitter salad, Roodstad sole, vegetables, red poached pears
CONFIT CRISPS
10-
Golden crisps with cheese selection
GOAT-CHEESE SALAD
18-
Salad with spinach and olives, witte vampier cheese
BITTER SALAD
15-
Salad with rucola, tomato and olive oil
CREAM OF ASPARAGUS
20-
Asparagus and mushroom cream
GLAZED VEGETABLES
18-
Balsamic vinegar-glazed vegetables and purée
LEMON SHRIMP
25-
Spicy shrimp with butter and lemon sauce, fresh herbs
STUFFED CHICKEN
28-
Chicken stuffed with tomatoes and virgin cheese
CHESTER BEEF
35-
Beef braised in red listan sauce with fresh greens
ROODSTAD SOLE
30-
Herb-crusted sole in buttery sauce
POACHED PEARS
20-
Poached pears in red wine and vanilla reduction
ORANGE-CHOCOLATE MOUSSE
12-
Chocolate torte with zesty orange flavor
Community content is available under
CC-BY-SA
unless otherwise noted.