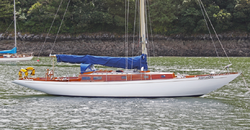 Aleksandra is a racing yacht owned by the Royal Family of Brunant. She was designed by Baglietto and built in 1952 in Italy. She was raced in in the early 1950s by her first owner. She was purchased by Crown Prince Marten in 1954 and named her after his wife, Princess Aleksandra.
Aleksandra has been the royal yacht since 1954, bought and kept in La Spezia, Italy. She was taken to Switzerland in 1956 as Marten was posted to the embassy in Bern. In 1958, she was taken to Brunant and in 1959, she was permanently based at the port in Grijzestad.
King Marten stopped sailing in the mid-1970s, and by then Crown Prince Anthony was an accomplished sailor. He sailed her in several amateur races, including the 1973 Round Berrio. In recent years, Prince Alexander has made most use out of the boat, but Queen Helene and Prince Bernd have also used her.
She was restored in 1991.
Specifications
Edit
Aleksandra is a 13-meter yacht, made of wood with a mahogany deck. At some point in the 1960s, she was fitted with a motor engine in Sint-Hendrikstad, removed in 1971.
Community content is available under
CC-BY-SA
unless otherwise noted.