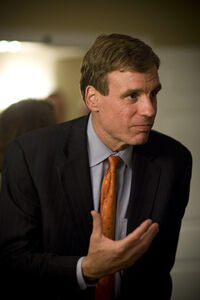 Alexander Thomas Rivier (born 3 September 1954) is a Brunanter politician with the Christian Democratic Union. He has been mayor of Dortmund since 2006. He was chairman of the CDU from 1998-2002 and previously served in the House of Representatives.
Biography
Edit
Personal life
Edit
Rivier married Theresa Lewis from Carrington in 1977. They had a daughter, Vicky (born 1979), but the couple divorced in 1980. His daughter married tennis player Robert Hewton. Rivier remarried Elisabeth Henderson in 1987. They had two stillborn children.
Political career
Edit
He was born and grew up in Koningstad. He moved to Dortmund in 1978 and joined the Christian Democratic Union. He was first elected to the Dortmund town council in 1982.
In the 1980s, Rivier was one of the emerging young talents within the CDU. In 1985, he was elected to the House of Representatives and in 1989, he was surprisingly appointed Minister of Transport and Communications in the Willemont government. He also served as Minister of Economy in the second Jorgeson government from 1994-1998.
He became CDU chairman in 1998 following the resignation of John Martins after disappointing election results. In the 2002 election, the CDU won 24 seats, as much as the Social Democratic Party, but following a failed government formation, Rivier stepped down in 2002 after having served as opposition leader for four years.
In 2006, Rivier was elected mayor of Dortmund. He has been re-elected in 2010, 2014 and 2018. He will retire from office in 2020.
From 2010-2015, Rivier was president of the Association of Cities and Towns.
Community content is available under
CC-BY-SA
unless otherwise noted.