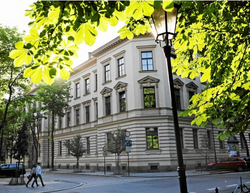 Ambrosian College is a public college, founded in 1778. The college is located in Koningstad's Grafstad quarter in a large 19th century building. Ambrosian College was named in 1804 after King Ambroos I and shifted to teaching in English. It was taken over as a state school in 1845 and is one of the most prestigious public schools in Brunant.
The school was for the longest time an advanced college, one of the few left in Brunant, receiving lots of interest due to its level of education and preparedness for its students. The school uses English as the main language of instruction.
The school is one of Brunant's best colleges and is renowned for its arts and design courses. The school rivals the private Collegio Champagnat Santa Clara since the mid-19th century, both academically and in sports, where the schools face off in tennis and fencing.
Anthony Garrard is the head teacher at Ambrosian College.
Foundation
Edit
The Royal College of Koningstad was founded in 1778 as a private school to teach the children of those in government and other important posts living in the new capital.
King Ambroos College
Edit
In 1804, King Ambroos gave a 9000 thaler grant to the school, with the stipulation that it become more open and accessible, and with the name being changed to King Ambroos' College.
Public school
Edit
Financial mismanagement in the 1840s saw the school go through three head teachers before the government decided to take it over in 1845; for 1846, it would become a public school, though by no means any less exclusive than before.
Recent history
Edit
For the 2017-2018 school year, the college will become a combined one, with classes from 7th to 12th year as opposed to just 9th to 12th.
Notable alumni
Edit