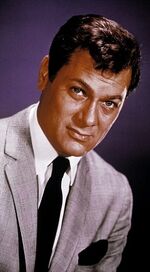 Anatole Bircamp, born Anatòle-Henri Bircamp (14 August 1914 - 15 January 1989) was a French-born Brunanter actor. While his career spanned over forty years, he is mostly remembered for his roles in the 1960s and 1970s.
Bircamp was born in France in 1914. He came to Brunant in 1936 and began his acting career in 1948, doing mostly stage and radio plays. In 1954 he appeared in his first movie, without much success. He became a naturalized citizen in 1957.[1]
Bircamp's first important film was John Barker's Men and Beasts (1958). Further recognition came with Adenis and Virsise (1961), Burmese Romance (1962) and Luck and Lucy (1963). In 1970, he played in the successful comedy My Boss' Daughter and two years later he had a memorable role in Where the Ocean meets the Sand. His role as Mr. White in Herbert Hosen's Milk & Mocha was praised a lot. In 1983, he received an Honorary Award at the Rosetown Film Festival, for his lifetime achievements.
Bircamp had a difficult personal life. While a minor star he was married to successful model Roxanne Harris[2] and they had a son Michel[3] (born 1950). He remarried, to model Jeanette Hardy (1928-1966), who left him in 1955 after an affair. He would later be involved in several other relationships, notably with actress Annette Howards in the early 1960s[4] before remarrying Hardy in a lavish ceremony at Grijzestad's Hotel 45 in 1967. By 1973 he had 8 paternity suits on him and in a massive high-profile trial[5] was forced to pay over Th. 9,000,000 (about US$3.5 million) in support money.
Community content is available under
CC-BY-SA
unless otherwise noted.