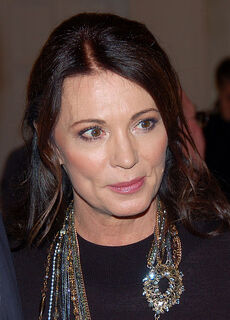 Angela Louise Miller
(13 February 1951) is a
Brunanter
actress, who has worked in movies and television since 1970. Miller has won more prizes in the
Rosetown Film Festival
, than any other actress in history; she has received the Barker Award for Best Actress four times (
The Good Man
- 1984,
The Tears of a Clown
- 1987,
Shadow Children
- 1996,
A Dark Place
 - 2013) and the Barker Award for Best Supporing Performer once (
Mob Wars
- 2006).
Early life
Edit
Miller was born in Carrington. She is the daughter of Cassandra (née Stevens), a school teacher from Boguestown, and Roland, a television producer for CBC. Miller has two older siblings; Edward (1947) and Sarah (1950). Edward works as Miller's agent since 1988 and Sarah is a former teacher.
Miller was interested in studying psychology at the Carrington College. However, she decided to follow a career in cinema, after the exhortation of Frederick Barlowe, the director of Inspector 64 TV series and old friend of her father.
Early steps
Edit
Miller made her first appearance in Inspector 64 in 1970. She quickly gained important supporting roles and appeared in a variety of films, including Milk & Mocha (1973) and Jesus Swept (1974).
Her first important role came with Michael Maybury's The Crimson Blouse (1980). She subsequently had the leading role in the successful The Smiling Teacher (1981) and a secondary one in the legendary The Wolf (1983). At the time, Miller was described by some critics as "the most promising actress of the country".
In 1984, Miller starred in The Good Man as a young police officer opposite Philip Rennet and Jan Soomer-Delsen, winning her first Barker Award for Best Actress at RFF. She won her second award on her very next film, The Tears of a Clown (1987), portraying Joanna Gorga.
Recent years
Edit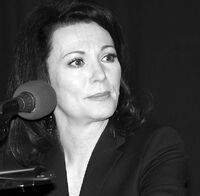 In 2006, Miller played the role of Giovanna Tolentino, a character based on Fabiana Capello, for John Fadaaq's Mob Wars. Her performance earned her a Barker Award for Best Supporting Perfromer at the Rosetown Film Festival. Three years later, she portrayed Princess Andrea Marie, Karl Van Draak's mother, at the 1663 miniseries.
In 2013, Miller had the leading role as Violet Fordham in the thriller A Dark Place and received her fourth nomination for the Barker Award for Best Actress, which she eventually won. Shortly after finishing the filming of this movie, she announced she would be taking an indefinite break from acting.
Since 2009, Miller is the president of the Koningstad Mediterranean Film Festival.
Personal life
Edit
Miller was married to popular singer and actor Lucas Prat, from 1977 until 2000, they had no children. In 2005, she reportedly had a brief romantic relationship with Alexander Bishop, a cameraman she met while filming Our Relations. Miller is a close friend to director Nathalie Jonker, with whom she has worked extensively.
Filmography
Edit
Community content is available under
CC-BY-SA
unless otherwise noted.