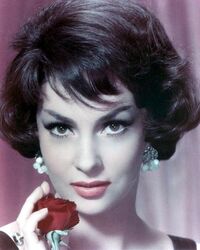 Annette Howards (née Raymond) (born 3 August 1939) is a Brunanter actress who was famous in the 1960s and 1970s.
Howards was born in Brezonde to Jaques Raymond, a French-born barber, and his Brunanter wife Silvia. She went to the Anders I School from 1946-1956 and attended the Royal University of Koningstad from 1957-1958 before dropping out to pursue an acting career.
In 1965, she married doctor John Howards from Carrington. They have a daughter, Marie (born 1967).
She began in the late 1950s, when she had a few minor roles, but she came to stardom in the early 1960s, notably for her role in Adenis and Virsise (as Adenis). She appeared in the TV series Inspector 64 later on and has remained active since then.
Community content is available under
CC-BY-SA
unless otherwise noted.