Anthony Elteman

Personal information
Full name
Anthony Elteman
Born
30 March 1984
Height
1.87 m
Club information
Years active
2002-date
Current club
Royal Battery FC
Position
Goalkeeper
Club history
FC Kings
2002-2012
FC Skeend
2012-2014
FC Willemstad
2014-2017
Royal Battery FC
2017-
National team
Youth Squad
2003
Senior Squad
2005-present
Anthony Elteman (1984, Cape Cross) is a Brunanter footballer who plays as a goalkeeper for Kemburger club Royal Battery FC and the Brunant national football team. He is widely considered to be the best wikination goalkeeper, for his speed, reflexes and good eye.
Biography
Edit
Personal life
Edit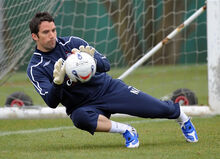 He is married to actress Stephanie Herrenhausen since 2009. In 2012 the couple announced she was pregnant and in October 12 gave birth to daughter Marion in Libertas.
Elteman joined FC Kings in 1999 and played in their youth squad. Elteman was a star in the team's youth squads and was soon training with the first team. He was given his first senior appearance in the Johan II Cup in 2003. 
In 2003 he was promoted to the first team and made himself the starting goalkeeper by 2006. Elteman played in most of the team's 2003-04 Johan II Cup matches, which Kings won. Elteman also appeared in nine league matches, six as substitute as Kings won the league that season. In the 2011-12 season, Elteman won the First league with Kings, being the best goalkeeper. He was given awards by the AFC for best goalkeeper in 2009, 2011 and 2012. That season, there were many rumors of him leaving to another club.
FC Skeend
Edit
He plays for FC Skeend in Libertas as a goalkeeper. He was hired in 2012 to play for them, and has performed well. Elteman was the best goalkeeper in the Libertan League, winning an award his first season with the club.
FC Willemstad
Edit
In the Summer of 2014, FC Willemstad agreed a part exchange deal which would see FC Skeend receive €3 million and Herebi Jaguf in exchange for Anthony Elteman.
Royal Battery FC
Edit
In July 2017, Elteman joined Kemburger club Royal Battery FC.
National team
Edit
In 2003 he appeared (once) for the Brunant national U-20 team and in 2005 for the senior team. But, Elteman had a hard time getting playing time, as he had to compete with Amadeus Kunter, Peter Boesman and Henry Harlow for the no. 1 shirt. For the 2008 World Football Championship, Elteman was made the second keeper behind Boesman, and his only game that tournament was in a 1-1 draw with Trinidad and Tobago. In 2010, Boesman retired from international football and Elteman became the undisputed number one. He played in all of Brunant's WFC 2012 games but Brunant were knocked out in the quarter-finals.
Elteman led the Brunant national team for WFC 2014 in Qatar.
Club statistics
Edit
Team
Season
Total
Matches
Goals
FC Kings
2002-2003
4
0
2003-2004
7
0
2004-2005
19
0
2005-2006
15
1
2006-2007
35
0
2007-2008
36
0
2008-2009
34
0
2009-2010
31
1
2010-2011
36
0
2011-2012
30
0
FC Skeend
2012
17
0
FC Willemstad
2014-15
0
0

Total

264
2
International statistics
Edit
Year
Total
Matches
GOals
2008
4
0
2009
7
0
2010
7
0
2011
4
0
2012
5
0
2013
9
0
Total
45
0
Community content is available under
CC-BY-SA
unless otherwise noted.