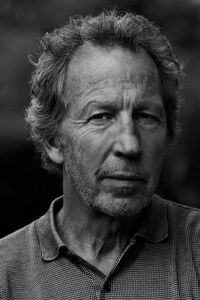 Anthony Robert Swanson (5 January 1938 - 18 May 2003) was a Brunanter film and television actor, known for his distinctive raucous voice and his imposing figure, standing 6' 2" (1.88 m).
Swanson made more than forty films and television appearances. He was nominated four times for the Barker Award for Best Supporting Performer, winning the prize once (Boisterous Nights - 1999). Swanson is also remembered for his turbulent relationship with actress Wilma Baker.
Swanson was born in Manchester, the son of the Brunanter consul in the United Kingdom. After the war, the whole family moved to Carrington.
Swanson began his acting career in early '60s, usually given uncredited small roles in TV series. In 1965, he appeared in a Monster Hospital episode, gaining more fame.
His film debut came with Where the Ocean meets the Sand (1972), portraying the lead character. Five years later, he played in Antoni Wisnowski's The Escape, receiving many accolades. He played in numerous other movies and TV series, earning many positive critics. In his third work with Wisnowski (Boisterous Nights, 1999), Swanson won the Barker Award for Best Supporting Perfomer.
On 18 May 2003, Swanson was found unconscious in his bed by his housekeeper, in his home in Koningstad. The autopsy report concluded that he died from heart arrest while sleeping. His last role has been in the successful action movie Let the Pistols Sing.
Personal life
Edit
Swanson married four times and had two children. From 1959 until their divorce in 1963, he was married to actress/singer Sybil Edwards, by whom he had one son. He was married twice, consecutively, to actress Wilma Baker, from 10 March 1967 to 21 February 1970 and from 10 October 1971 to 3 August 1976. They were introduced to each other by Herbert S. Hosen and had a daughter. In late 1970's, he was rumoured to have an affair with married actress Claudia Abbes. In 1981, he married Yolanthe Verbeek, a Hermite model, eleven years younger than him.
Selected filmography
Edit
Year(s)
Title
Role
Channel
Notes
1961
Winter Sonata
Student#1
BR&T
TV debut
Uncredited
Two episodes
1964
Jasmine
Johnny
BR&T
Uncredited
One episode
1964-1965
The Farmers
Jonathan
BR&T
1965
Monster Hospital
Goran the Gorilla
CBC
One episode
1973
Deputy Sheriff
Pat Longarm
CBC
One episode
1974
Inspector 64
Henry McDonald
CBC
One episode
Community content is available under
CC-BY-SA
unless otherwise noted.