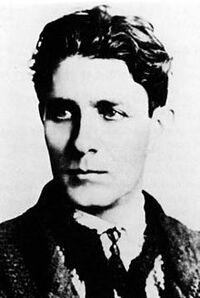 Antonio Esquibel-Fontana (3 March 1872 - 17 September 1954) was a Brunanter Barzuna politician and mayor of Brezonde on two occasions.
Biography
Edit
Early life
Edit
Esquibel-Fontana was born in Brezonde in 1872 to parents of Barzuna origin. He joined the Royal Guard in 1893. He was involved with the military for two years before he studied law at the Royal University of Koningstad and pursued a career in politics.
Political career
Edit
In 1915, he was elected mayor of Brezonde. He was re-elected in 1919, but resigned in 1922 because of corruption issues.
In 1934, however, he was elected again, but at the time, he had more right-wing and populist political views. He was also under fascist influence. Esquibel-Fontana was narrowly re-elected in 1938.
Second World War
Edit
In 1941, Germany invaded Brunant. The mayor of Brezonde was cooperative with the Nazi German occupiers and handed to them the Jews of the city. He was rewarded with lots of money and fine items taken from Jews. The Underground Revolution resistance group tried to kill him in 1942, but the grenade they launched killed his driver and only injured the mayor. Esquibel-Fontana would then be driven in an armored car with a guard. When the liberation took place in 1944, he hid in a church outside Brezonde and then escaped to Spain, shielded by the Francoists. He was sentenced to death in absence, but remained hiding in Spain, where he took the name of Jose Reyes to not be found. He died there in 1954.
Community content is available under
CC-BY-SA
unless otherwise noted.