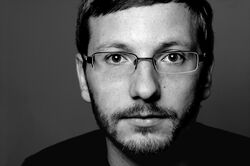 Berthold Andreas Christian, Prince of Baden (born 15 June 1973) is a German-born nobleman, who lives in Brunant. He is married to Princess Amalia, who is a granddaughter of King Marten II. Prince Berthold is a member of both the Grand Ducal Family of Baden by birth and the Royal Family of Brunant by marriage.
Biography
[
]
Life in Baden
[
]
Berthold is the fourth child and third son of Maximilian, Margrave of Baden, and Archduchess Valerie of Austria. He was born at the Schloss Salem in Baden-Württemberg, Germany. He has four siblings: Marie Louise (1969), Bernhard (1970), Leopold (1971) and Michael (1976). He is a great-nephew of Prince Philip, Duke of Edinburgh.
Berthold began studying law, but dropped out of university in 1992, when he joined the German Armed Forces.
Brunant
[
]
Prince Berthold came to Brunant in 1996 to join the Royal Guard as a military strategist. There, he met Princess Amalia and they married in 2006. The prince left the Royal Guard shortly after the birth of his first child in 2007 and opened a photography studio, something that he wanted to do for years.
Together with his wife, the prince has become a patron of various charities and is known to be a benefactor of the Royal Koningstad Hospital. He is the honorary president of the Brunanter Red Cross and is an active member with Amnesty International.
Family
[
]
Berthold married Princess Amalia (daughter of Princess Marie and William Van Draak) in a civil ceremony in Koningstad on 16 July 2006 and in a religious one the next day at the Dortmund Cathedral. They have two children: