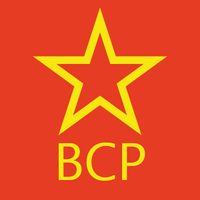 The Brunanter Communist Party (BCP; Dutch: Brunanter Communistische Partij) was a Brunanter political party founded in 1954 and disbanded in 1990.
The Brunanter Communist Party (BCP) was founded in 1954, when some members of the Brunanter Communist Party (formerly known as the Communist Front) were dissatisfied when their party changed its name to the Socialist Left Party (SLP) in 1953. The bulk of the party moved to the SLP, which is seen as the Communist Front's successor, but a minority of the Brunanter communists joined the newly-founded Brunanter Communist Party, which they saw as the legitimate successor party.
The BCP contested in all general elections in the 1950s, 1960s and 1970s, but often failed to win any seat in the House of Representatives. Throughout the late 1950s and early 1960s, most BCP members defected to the SLP. The anti-Soviet political climate in Brunant during the Cold War years stood in the way for the BCP's political breakthrough. The SLP also participated in the Warson, Elteman and Milner governments.
The founding of P70-Links in 1981, a left-wing marxist splinter party of Barzona Libre, was the beginning of the end for the BCP. Upon the 1981 general election, the communists won two seats, but in 1985, they lost both seats and P70-Links won their first seat. Many younger BCP members joined P70-Links or remained defecting to the SLP in the 1980s. Upon another disappointing election result in 1989, the BCP's party leadership stepped down, resulting in the party's disbanding the next year.
Community content is available under
CC-BY-SA
unless otherwise noted.