The City of Carrington is the third-largest city in Brunant and the capital of Carrington Parish. It has a population of 101,255.
Venetians and Dutch
Edit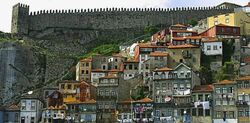 Carrington was originally founded by Aragonese settlers in 1368 as San Marcos. The city was built along the walls of the Markstad Castle, built from 1361 to 1377. Under the Aragonese and Venetians, San Marcos thrived as a market town. In 1385, Venetian troops forcibly occupied the town, creating resentment among the local populations. It quickly grew into a Venetian trade post and became the second-largest settlement in the County of Barzona. In 1404, during the Crisis of 1404, the town of San Marcos was captured by Guillem V de Pinós on behalf of Pedro de Ampurias. The town was besieged for two weeks by Juan Ramon Martines y Suárez, the husband of Serafina de Larria y Jordán de Urries. Following Guillem's surrender, Serafina was widely accepted as the rightful heir of her father.
In 1407, peasants near Sint-Markstad refused to work for their Venetian masters and began the first act of defiance against them, leading to fierce reprisals. This act would spark a wave of minor protests and revolts that would lead to the War of Independence in 1427. During the war, local resistance to the Venetians resulted in a large unit of men being sent to the town, which defeated a small force of armed locals and burnt many houses. Under the Dutch, San Marcos took on the name Sint-Markstad.
Early modern time
Edit
Following the end of the war, Sint-Markstad would become a large market town, with people from the region coming to the Great market to buy and sell their produce and wares. Around the house some wealthy families like the Murais built large country houses such as Villa Murais and Philips House.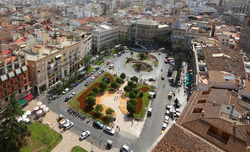 The townspeople took the first action of the Civil War in 1663, raiding the town arsenal. The following day, the king sent an force of 800 men to recover the town. Mayor Nicolas Haas organized the defense, where 214 men and 31 women took arms against the king. The battle was a massacre, and royalist troops killed 185 armed citizens, and 68 unarmed ones.
In the 1700s, Sint-Markstad became a textile and cloth-making center, with a significant industry.
After James Carrington's Invasion of Brunant in 1784, he renamed the city after himself, and the name has stayed.
Recent history
Edit
Carrington's economy struggled in the early 1800s, with an inability to adapt to the industrial revolution, and little interest in mechanical production of textiles. The large industry shifted to southern Brunant in the 1850s through 1870s, and only artisanal cloth production remained into the 20th century.
Carrington reached a population of 100,000 in 2013.
Government
Edit
The most recent elections were held in 2017, previously in 2013.
Carrington Government

Party
Seats
SD
FLP
SLP
CDU
YES
CvB
P70
Carrington has several good schools, which include:
Sporting Markstad currently play in the First League and Carrington FC currently play in the Second League. There are three football clubs that play in the Cape Cross League Division One of the Parish League System, Cadona Football Club, FC Carrington II and Carrington S&FC.
Rugby league club Carrington RLFC currently play in the Brunanter Rugby League. The Carrington Hippodrome (site of the Johan II Cup) is located to the south of Carrington.
Town Layout
Edit
The Castle was built on a high lookout, and the earliest houses were built alongside the cliffs beside it. Houses from the 15th century onward were built to the east of the castle on lower ground, centered around the U-shaped St. Marks Square.
Simplified town map
Edit
Carrington has two neighborhoods, the Old Town and Cadona.
Notable Carringtoners
Edit
Twin cities
Edit
Settlements in Brunant
Adams:
Cities, towns and villages: Adamstown • Middleton
Localities: Elsing • Fontanet • Hindon • Starford
Brunant:
Cities, towns and villages: Brunantstad • Martensdorp • Swantown
Localities: Silvana
Cape Cross
Cities, towns and villages: Brezonde • Cape Cross • Dortmund • Koningstad
Localities: Alt-Vermel • Bacena • Belmont • Denia • Geitstand • Grisant • Havery • Iban • Mercurius • Newbury • Penalmont • Portin • Prinsenberg • Ravels • Santa Tereza • Sant-Felix • Swintley • Wiets
Carrington:
Cities, towns and villages: Carrington • Niesburg
Localities: Belcava • Bryonia • Castle Baily • Castramont • Cowlton • Henley • Loudon • Santa Maria nal Camp • Santpeter • Stanford • Vianna
Central:
Cities, towns and villages: Boguestown
Localities: Acrine • Barnbrook • Berganz • Bowington • Cornel • Limes • Lincoln • Littles • Newell • Ristley • Tindall
Chester:
Cities, towns and villages: Chester • Grijzestad
Localities: Aramore • Carelsdorp • Carron • Campen • Finland Groves • Kleinebeek • Limburg • Noordendal • Oudeklooster • Roster • Varsenare
Drenthe:
Cities, towns and villages: Drenthe • Sint-Hendrikstad
Localities: Alba • Annandale • Arstad • Bi • Blancart • Blanden • Caster • Cortesem • Hamme • Heusal • Holsbeck • Kirkenberg • Lagermarkt • Loven • Marken • Newdowns • Nieuwbergen • Nieuw Friesland • Nieuw Girona • Oosterhaar • Orust • Paterswolde • Pietersdorp • Pleinlouis • Polpis • Salbes • Simonshaven • Sint-Anders aan Martiges • Trier • Vreise • Wilmarn • Zuidendorp • Zwartdorp
Helmond:
Cities, towns and villages: Nieuw Helmond • Roodstad
Localities: Alzar • Brandis • Carante • Cardon • Gessel • Haren • Issen • Perbe • Pyrmont • Sint-Elisa • Tangres
Mariaberg:
Cities, towns and villages: Donderstad
Localities: Bussot • Caborna • De Weg • Huisreal • Mariaberg • Portela • Ravaner • Roures • Sint-Laurens • Venetie • Zouter
Roseland:
Cities, towns and villages: Rosetown
Localities: Aurora • Ingley • Narvas • Witney
Sint-Anders:
Cities, towns and villages: Charles Town • Grunbeck • Sint-Anders
Localities: Ambrosian Hills • Bergantin • Berslet • Boskerk • Cavell • Listan • Littlehampton • Olivers Lane • Secret Lakes • Tourford
Sint-Willemstad:
Cities, towns and villages: Sint-Willemstad
Localities: Benicar • Domenech • Gardes • Hanenberg • Isabelle • Kapeltoren • Martiges • Milde • Mondier • Rosselare
Berrio:
Localities: Cristiana • Headley
Community content is available under
CC-BY-SA
unless otherwise noted.