Central Parish is a parish on Central Island in Brunant. It is the only landlocked Parish in the country and is the most rugged. It is well-known for its almost-extinct hardwoods and beautiful scenery, especially in the Central Ranges. The representative is John Schwartz. Its capital is Boguestown.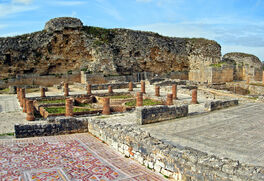 The first records of human settlement here date from 320 AD, with a small Roman village located near the border with Cape Cross. It was most likely inhabited by around 100 people and is thought to have existed for only 50 or so years. Human history picks up in 1641 when Borderer immigrants fleeing war and strife in England and Scotland immigrate to the inner reaches of Central Island. Further waves of immigration by Frisians, Bretons, and the Swiss followed.
Central Parish was spared most of the devastation visited upon other areas of the kingdom when Carrington and his men invaded. Historians are not quite sure why, but it is known that most of Carringtons' mercenaries were Borderers themselves and may have had relations among the residents of the Parish. Borderers being rather clannish folk, none of them would have wanted a blood feud on their hands and may have spared the parish for that reason.
Central Parish's economy revolves around agriculture; mainly pork products and fruits. 
Settlements in Brunant
Adams:
Cities, towns and villages: Adamstown • Middleton
Localities: Elsing • Fontanet • Hindon • Starford
Brunant:
Cities, towns and villages: Brunantstad • Martensdorp • Swantown
Localities: Silvana
Cape Cross
Cities, towns and villages: Brezonde • Cape Cross • Koningstad
Localities: Alt-Vermel • Bacena • Belmont • Denia • Geitstand • Grisant • Havery • Iban • Mercurius • Newbury • Penalmont • Portin • Prinsenberg • Ravels • Santa Tereza • Sant-Felix • Swintley • Wiets
Carrington:
Cities, towns and villages: Carrington • Niesburg
Localities: Belcava • Bryonia • Castle Baily • Castramont • Cowlton • Henley • Loudon • Santa Maria nal Camp • Santpeter • Stanford • Vianna
Central:
Cities, towns and villages: Boguestown
Localities: Acrine • Barnbrook • Berganz • Bowington • Cornel • Limes • Lincoln • Littles • Newell • Ristley • Tindall
Chester:
Cities, towns and villages: Chester • Grijzestad
Localities: Aramore • Carelsdorp • Carron • Campen • Finland Groves • Kleinebeek • Limburg • Noordendal • Oudeklooster • Roster • Varsenare
Drenthe:
Cities, towns and villages: Drenthe • Sint-Hendrikstad
Localities: Alba • Annandale • Arstad • Bi • Blancart • Blanden • Caster • Cortesem • Hamme • Heusal • Holsbeck • Kirkenberg • Lagermarkt • Loven • Marken • Newdowns • Nieuwbergen • Nieuw Friesland • Nieuw Girona • Oosterhaar • Orust • Paterswolde • Pietersdorp • Pleinlouis • Polpis • Salbes • Simonshaven • Sint-Anders aan Martiges • Trier • Vreise • Wilmarn • Zuidendorp • Zwartdorp
Helmond:
Cities, towns and villages: Nieuw Helmond • Roodstad
Localities: Alzar • Brandis • Carante • Cardon • Gessel • Haren • Issen • Perbe • Pyrmont • Sint-Elisa • Tangres
Mariaberg:
Cities, towns and villages: Donderstad
Localities: Bussot • Caborna • De Weg • Huisreal • Mariaberg • Portela • Ravaner • Roures • Sint-Laurens • Venetie • Zouter
Roseland:
Cities, towns and villages: Rosetown
Localities: Aurora • Ingley • Narvas • Witney
Sint-Anders:
Cities, towns and villages: Charles Town • Grunbeck • Sint-Anders
Localities: Ambrosian Hills • Bergantin • Berslet • Boskerk • Cavell • Listan • Littlehampton • Olivers Lane • Secret Lakes • Tourford
Sint-Willemstad:
Cities, towns and villages: Sint-Willemstad
Localities: Benicar • Domenech • Gardes • Hanenberg • Isabelle • Kapeltoren • Martiges • Milde • Mondier • Rosselare