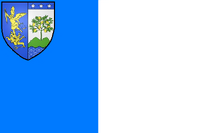 Cettatie (Cetatian: Cettàtia) is a microstate and wikination located in the French Riviera. The country has a population of 41,670 people and has French as its official language. France borders the country on three sides while the other side borders the Mediterranean Sea. Cettatie is also located close to Brunant and Italy, although it has no direct borders.
Cettatie is a constitutional monarchy, with Jean-Louis II as its king and Michel Rochdale as President. The queen of Cettatie, Amelia Bienquer, is Brunant-born.
Relations with Brunant
Edit
Of all International Wiki Organisation (IWO) members, Cettatie is located geographically closest to Brunant.
In 1807, Cettatie invaded Brunant, but their attempt failed.
Brunant has a Honorary Consulate in Quartier Marenco, located at 10 Rue Gamble. Cettatie has no diplomatic mission to Brunant.
Several Cetatian sports teams play in Brunanter competitions, including rugby club Cettatie Olympique, which plays in the Brunanter Rugby League. There is also interest from football team AS Cettatie to play in the Brunanter football leagues.
Community content is available under
CC-BY-SA
unless otherwise noted.