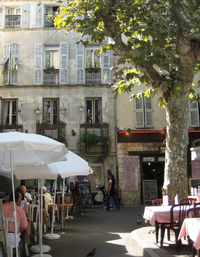 Charleston Beach is a very affluent and elegant neighborhood located in southern Koningstad. It was built in the 1860s, with fine apartments and hotels. It is the site of the famous National Automobile Museum and the Charleston Casino. There had been some Cuban immigration here in the 1930s, but following the Cuban Revolution, many rich Cubans moved here and it is also known as "Little Cuba".
Charleston Beach was historically the site of several summer homes for wealthy out-of-towners , as well as hosting a military barrack. By the 1860s much of this had been sold off and the city laid out plans for a neighborhood. From 1865 on, engineers built the street system and workers were busy building homes. These houses were simple and were occupied by working-class tenants, but the location saw many wealthy people purchase them in the coming decades. Not unlike Vandelet Quay, the houses were transformed into real elegant townhouses, some even wih art nouveau redesigns and decoration.
The quarter attracted many wealthy individuals over the years. It later became known for attracting wealthy Cubans and Americans, who from the 1930s on set up ritzy clubs and restaurants in the area.
See the page Map colors for an explanation of what each color means.
Community content is available under
CC-BY-SA
unless otherwise noted.