Chester Parish

Capital
Grijzestad
Founded
12 October 1787
Representative
Giovanni Spatola
Population
at least 120,000
GDP
€ 30,130 (per capita)
Main Religion
Christianity
Languages
Dutch, English
Chester Parish is a parish covering the north half of Hogeberg Island. The capital is Grijzestad. The representative is Giovanni Spatola of the Green Party.
History
[
]
Chester Parish is one of the oldest Dutch Settlements in the country. In 1411, a Dutch ship sailed to Hogeberg Island and founded Grijzestad. Over the next few years, more and more Dutch came to the islands, while the Venetians lost interest in the Islands. In 1427, the Convention of Grijzestad met in Grijzestad and declared their independence from Venice. There, they signed the now-defunct Grijzestad Constitution. Grijzestad grew, and became capital of Brunant in 1427, and again from 1451-1784. In 1784, during Carrington's invasion of the islands, the people of Grijzestad put up resistance to his invasion, unlike most of the other towns. When his troops defeated the people, he had many of them killed and the town was left destroyed.
Economy
[
]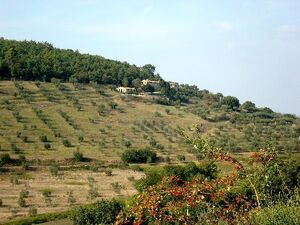 Chester Parish is known for its large olive plantations and its world class olive oil. It is usually exported to North America and Lovia. There is also a small wine-producing region, but is rarely exported. Chester Parish produces about 35% of the country's sheep milk, coming mainly from the Hogerberg sheep.
In Chester Parish, the first national park, Dunant National Park, can be found.
Settlements in Brunant
Adams:
Cities, towns and villages: Adamstown • Middleton
Localities: Elsing • Fontanet • Hindon • Starford
Brunant:
Cities, towns and villages: Brunantstad • Martensdorp • Swantown
Localities: Silvana
Cape Cross
Cities, towns and villages: Brezonde • Cape Cross • Dortmund • Koningstad
Localities: Alt-Vermel • Bacena • Belmont • Denia • Geitstand • Grisant • Havery • Iban • Mercurius • Newbury • Penalmont • Portin • Prinsenberg • Ravels • Santa Tereza • Sant-Felix • Swintley • Wiets
Carrington:
Cities, towns and villages: Carrington • Niesburg
Localities: Belcava •

Bryonia

• Castle Baily • Castramont •

Cowlton

•

Henley

• Loudon • Santa Maria nal Camp •

Santpeter

•

Stanford

•

Vianna

Central:
Cities, towns and villages: Boguestown
Localities: Acrine • Barnbrook • Berganz • Bowington • Cornel •

Limes

• Lincoln • Littles • Newell •

Ristley

•

Tindall

Chester:
Cities, towns and villages: Chester • Grijzestad
Localities:

Aramore

•

Carelsdorp

•

Carron

• Campen • Finland Groves •

Kleinebeek

• Limburg •

Noordendal

•

Oudeklooster

•

Roster

•

Varsenare

Drenthe:
Cities, towns and villages: Drenthe • Sint-Hendrikstad
Localities:

Alba

• Annandale •

Arstad

• Bi •

Blancart

•

Blanden

•

Caster

•

Cortesem

•

Hamme

•

Heusal

•

Holsbeck

•

Kirkenberg

•

Lagermarkt

• Loven •

Marken

•

Newdowns

• Nieuwbergen •

Nieuw Friesland

• Nieuw Girona •

Oosterhaar

• Orust •

Paterswolde

•

Pietersdorp

•

Pleinlouis

•

Polpis

•

Salbes

•

Simonshaven

• Sint-Anders aan Martiges • Trier •

Vreise

•

Wilmarn

• Zuidendorp •

Zwartdorp

Helmond:
Cities, towns and villages: Nieuw Helmond • Roodstad
Localities:

Alzar

•

Brandis

• Carante • Cardon • Gessel •

Haren

•

Issen

•

Perbe

•

Pyrmont

• Sint-Elisa •

Tangres

Mariaberg:
Cities, towns and villages: Donderstad
Localities:

Bussot

• Caborna •

De Weg

•

Huisreal

• Mariaberg •

Portela

• Ravaner •

Roures

•

Sint-Laurens

•

Venetie

•

Zouter

Roseland:
Cities, towns and villages: Rosetown
Localities:

Aurora

• Ingley •

Narvas

•

Witney

Sint-Anders:
Cities, towns and villages: Charles Town • Grunbeck • Sint-Anders
Localities: Ambrosian Hills • Bergantin •

Berslet

•

Boskerk

•

Cavell

• Listan • Littlehampton • Olivers Lane • Secret Lakes •

Tourford

Sint-Willemstad:
Cities, towns and villages: Sint-Willemstad
Localities: Benicar • Domenech •

Gardes

•

Hanenberg

•

Isabelle

•

Kapeltoren

•

Martiges

•

Milde

•

Mondier

•

Rosselare

Berrio:
Localities: Cristiana • Headley