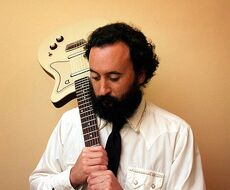 Chorche Vea (22 July 1973) is a Brezondian singer and songwriter. He is known for combining Jitanès music with rock elements, even though nowadays he plays Jitanès in the traditional way. Vea is one of the most successful artists related to Jitanès and is even called "Serra-Grana of the 21st century".
Career
[
]
Vea was born in Niesburg, the son of a bookseller and his wife. His father was an amateur accordionist and when Vea started playing the guitar, the two of them went on to sing navedacantas.
With the intervention of Jospier Ricard, Vea signed a contract with El Choclo in 1994. The very next year, he released his first album, Parlas Barzuna?, which became a minor hit among the Brezondian people. In 1996, he toured with Anais Gul Pozo, accompanying her Jitanès largo with his guitar. His next album (Bruma - 1999) was received quite well, but it didn't reprise the success of his previous ablum.
Vea took a three years-long break, focusing on activism and his travels around the world. In 2003 he released Terra, which did extremely well on the Hit Parade. This album is considered Vea's real breakthrough, as all of his subsequent releases were commercially and critically acclaimed.
Activism
[
]
Vea is a human rights activist, mostly known for his work for pro-Palestine causes. Since 2001, he is a member of International Solidarity Movement and has been twice in Palestine. Vea is known to take on an avid role in protesting against racism and he also frequents charitable events that work to further research for cancer-stricken children.
Discography
[
]
1995 -

Parlas Barzuna?

1999 - Bruma
2003 -

Terra

2005 -

Bun Jurno Prinsesa!

2008 - Porta Prosebida
2010 - Pasaro Raro
2012 -

Saludes de Niesium