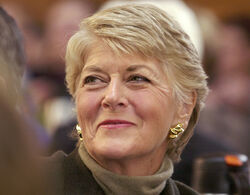 Clarissa Biel (5 December 1929 - 23 August 2017) was a Brunanter lawyer. She was the wife of President Gerard Donner and was the First Lady from 1984-1990.
Biography
Edit

This page or section is a work in progress.
You are welcome to help in its construction by editing it as well.
If in doubt, please contact the most recent editor, Wabba The I.
Biel was born to a Niesburger family of German origin. She studied law at the Royal University of Koningstad from 1948-1952 and worked as a judges assistant in Carrington Parish. In 1954, she married congressional representative and veteran Gerard Donner. They had three children, William, Adam and Katrine. In 1959, she joined the law firm Sandler and Bryant in Koningstad and in 1966, she was made a full partner (the firm was renamed Sandler, Bryant and Donner). Donner worked with the law firm for over 20 years.
In 1984, her husband was elected President and she became the First Lady. She came to promote a variety of charitable causes, notably The Cancer Society (her father died of cancer in 1950). She served in her role until 1990 when her husband lost the elections. She did not return to Sandler, Bryant and Donner, but instead, Donner took to volunteering with The Cancer Society and in 1999, she was made Vice President of the organisation, a post which she held until 2004.
In 2017, Donner died of a heart attack in her home in Koningstad, at the age of 87.
Community content is available under
CC-BY-SA
unless otherwise noted.