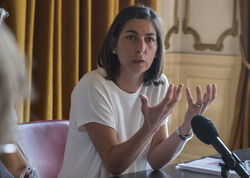 Claudia Linard (born 11 January 1973) is a Brunanter politician. She has been a member of the European Parliament since 2009. A member of ECO17 since 2017, she was formerly a member of its predecessor the Green Party.
Biography
[
]
Early life and career
[
]
Linard was born in Koningstad in 1973. She studied microbiology at the Royal University of Koningstad and worked at the Royal Koningstad Hospital after her studies.
She is a niece of former CDU and BPP member Chris Linard.
In 1994, she joined the newly-founded Green Party during her studies. She was deputy chairwoman of the GP's youth wing from 1995-1997 and wrote many articles for the party's magazine Life. She worked at the party's general secretary and was a member of Minister of Transport and Communications Dirk Stenman's cabinet.
In the 2002 election, she failed to win a seat, but in 2005, she was elected a member of the House of Representatives.
European Parliament
[
]
In 2009, the Green Party chose Linard to head the party's list for the 2009 European Parliament election. She won the GP's only seat and became a member of the European Parliament.
Linard was re-elected in the 2014 and 2019 elections and his currently in her third term as an MEP, serving until 2024.
In 2017, following the Green Party corruption scandal, Linard left the GP and joined its successor ECO17.