This page or section is a work in progress.
You are welcome to help in its construction by editing it as well.
If in doubt, please contact the most recent editor, 77topaz.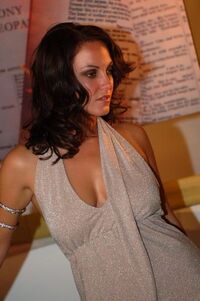 Cornelia "Conny" Meeuwsen (1 November, 1975 in Roodstad) is a Brunanter singer and songwriter. Dubbed the "Queen of (Brunanter) Pop", Meeuwsen has become the most prominent singer of this genre as well as a massive celebrity figure. Her single Loveless (2003) became the best selling single of all-time in Brunant, while she has represented the country thrice in the Eurovision Song Contest, more times than any other artist. All her seven albums have reached the HP Album Top 20 .
Biography
Edit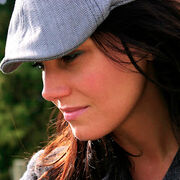 Meeuwsen's first album, Heaven on Earth (1997) became a commercial and critical success.
Meeuwsen has been a host on Brunant's Got Talent since its inception in 2011. Following the release of Album The Highway, which reached number 1 in Brunant, she announced a break from her music to focus on other projects and spend more time with her children.
Personal life
Edit
Meeuwsen was in a relationsip with to Niek Tenter from 1998 to 2001. In 2003 she became engaged to Kemburger footballer Marc Le Tissey, marrying that year. They became one of the high-profile couples in the country, as he was a star player at Grijzestad Strijders and a fashion model. They have four children, Caley Cee Le Tissey (2004), Janey Ash Le Tissey (2006), Massy Le Tissey (2009) and Olly Tate Le Tissey (2012).
Discography
Edit
Year
Album details
Peak chart positions
HP Album Top 20
Hot Album 20
1997
Heaven on Earth
1
—
2001
It Is Love
5
—
2003
Loveless
1
—
2008
Tender Moments
3
—
2011
The Highway
1
7
2014
Lost in You
11
—
2017
Scars of the Soul

Released: 18 January 2017

8
—
"—" denotes a release that did not chart.
Community content is available under
CC-BY-SA
unless otherwise noted.