The Coronation of Queen Helene is a Brunanter 2013 ceremony marking both the abdication of King Anthony I and the installment of Princess Helene as Queen of Brunant. It will take place on 14 September in 2013.
King Anthony was the sixth international monarch to abdicate in 2013, after King Albert II of Belgium, Queen Beatrix of the Netherlands, Emir Hamad bin Khalifa Al Thani, King Dimitri of Lovia and Pope Benedictus XVI.
Background
Edit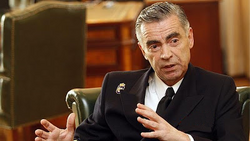 Anthony I took over as king from his father, Marten II, who died in October 2011. Anthony, unlike his father, was not a highly popular figure and was even referred to in the media as a "stuffy Prince Charles-type militaryman". Anthony developed throat cancer in 2012 and soon reduced his public activity, being ill. While treated, Anthony relapsed in 2013 and his daughter took a much more prominent role.
He then announced on 1 September his intention to abdicate on the 14th.
Ceremony and events
Edit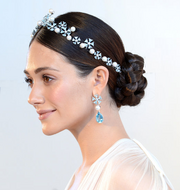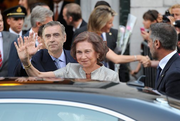 The official ceremony took place at St. Peter's Church in Koningstad, where following a brief mass the King signed the abdication documents and Helene was proclaimed queen by the bishop alongside her husband, Prince Bernd. Though the ceremony is known as a coronation, no crown is ever placed on the monarch's head.
Prior to that the royal couple traveled up the Dortmund River aboard the R.S. Grijzestad, with a Realmarine escort. From the docking point on Vandelet Quay, they were escorted by the Royal Guard on the State Coach to reach the church.
The new Queen and her consort paraded through the city for onlookers to see and cheer on. Schoolchildren from Koningstad formed a choir to give their goodbye to King Anthony in the Realpaleis. A dinner was then be held at the palace in honor of the new monarchs.
Notable guests
Edit
King Sebastian of Lovia, Queen Louise
Lovian PM Oos Wes Ilava and Mrs. Ilava
Mäöres Governor Bart Koene
Libertan King Hendrik and Queen Marie
Albert II of Monaco and Princess Charlene
Jean-Louis II of Cettatie and Queen Amelia
Other guests expected to be at the ceremony include representatives of the Dutch, Belgian, British and Spanish monarchs.
All members of the Senate will be a guest too.
After the abdication
Edit
The abdication will lead to some changes in the Royal family, with the Queen and her family, along with her siblings being in the Royal family. Anthony I's siblings will no longer be officially in the family, and he will no longer officially known as "King".
Following the ceremonies the royal couple will be traveling to other cities and areas within Brunant to partake in the many events.
Community content is available under
CC-BY-SA
unless otherwise noted.