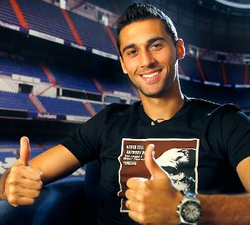 David Capels-Montjoy (10 October 1985, Niesburg) is a Brunanter footballer who plays as a right-back for Dortmund SFC and the national team.
Since 2018, he is the captain of the national team.
His sister Stéphanie married Libertan politician/businessman Patrick van Skeendt. The couple renamed one of their three children after David.
Biography
Edit
Early life
Edit
Capels was born in 1985 to Jose Capels and Andrea Montjoy, a Barzuna couple fron Niesburg. Capels is a distant relative to Queen Helene, through Adriaan Van Damme and common ancestor Leuvis Van Damme. Capels started playing football in the early 1990s and in 2000 began training with local club FC Taurus Niesburg. In 2003 he signed a professional contract with the club for three years.
Taurus Niesburg
Edit
At Taurus, he failed to start a game in their 2003-04 season, but did appear in their only cup match, a 2-0 loss to Arabian FC. In the '04-05 season, he started in most of the club's games after landing a spot in the Brunant U-20 team. At the end of 2005, there was increased interest from other clubs and in the summer he moved to Carrington FC for €900,000.
Carrington FC
Edit
At Carrington Capels only featured twice in his first season, all of them being cup games. In the 2006-07 season he was in the starting lineup to due an injury to defender Tomasson. When Tomasson was sold that season Capels cemented himself in the starting 11. But, he was unhappy with the lack of silverware and was in frequent arguments with coach Houtman. In the winter transfer period in 2008, Carrington announced Capels' departure from the club.
In January 2008 Capels joined FC Donderar.
In 2012 there were increasing rumors of Capels' departure to FC Drenthe, to replace 33-year-old defender Michael Karabas. Finally he joined Dortmund SFC in January 2013 for 7.5 million € (4 years), including a yearly salary of €1.2 million.
Community content is available under
CC-BY-SA
unless otherwise noted.