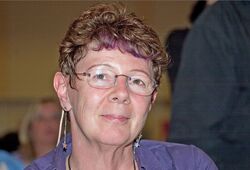 Elisabeth Amanda Thiessen (born 22 May 1954) is a Brunanter pop art painter and sculptor. A self-taught artist, she spearheaded the resurgence of pop art in the 1990s. Thiessen experimented with various art forms, influenced mainly by Roy Lichtenstein and Louise Hening. The Modern Art Gallery in Grijzestad has the highest number of paintings made by Thiessen.
Biography
Edit
Thiessen was born in Dortmund, where she still lives. Both her parents were art enthusiasts and thus she was frequently taken to the National Museum of Art. She did not want to study at the El-Reis Academy of the Arts, however, as she preferred to discover art herself. She is a cousin of Joris Thiessen, a famous film critic.
Thiessen started painting in her teens, but she was introduced to pop art in the late 1970s. A despised artist for a long time, she acquired fame in 1988, when she admitted she was a lesbian. From then on, her career was ascending continually, a fact that led Gabriel Blanchard to call her "the living spirit of pop art". Thiessen's paintings peaked their popularity in the late 1990s.
During the 2000s, Thiessen started working in sculpture, also with much success. Today, she continues painting, although she has reduced her activity in art. All in all, Thiessen is the most prolific pop artist of Brunant, as she has completed 440 prints, over 30 paintings and a dozen sculptures.
Community content is available under
CC-BY-SA
unless otherwise noted.