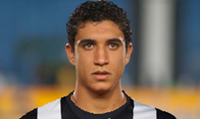 Emad Nabil (born 13 May 1995) is a Brunanter footballer playing as a striker for FC Kings and the Brunant national football team. Nabil is a very talented player who is noted for being dangerous in front of the goal.
Nabil had been in Grijzestad's youth setup since 2009. He was considered among the best young players in the academy, though was not considered for first team action. In the 2011-12 season, Nabil was called up to the first team in September and featured in the bench on two occasions, before being sent out on loan to Grijzestad's feeder team.
In December 2011 he was sent on loan to the Strijders' feeder team, FC Grijzestad B in the Hogeberg-Liga. At just 16, he was the youngest player in his league to make an appearance.
The next season (2012-13) Nabil featured as main striker and was known for his deadly accuracy in fron of goal, powerful shots and precision. Nabil soon became a fan favorite and was given the nickname of "Pharaoh" by the media. He became the league's top scorer with 13 goals.
Nabil was named for Grijzestad's senior squad for the 2013-14 season, making his first appearance in September for a Cup match. He now has five goals in eight league matches. In January 2014 Karim Zenadi was quoted as saying that Nabil is <<his successor>>. Later that month he cored a hat-trick in a derby match versus Grijzestad University S.C., and by early March made it to a total of 13 goals.
Nabil scored an early goal in a 0-5 away win at Brezonde, but he was injured in the second half and is likely to lose three weeks out.
On the 16th of May 2015, it was announced the FC Kings and the Grijzestad Strijders had agreed to a deal regarding a player exchange involing Gerard Jostens and Emad Nabil. 
Nabil was called up to the Brunant national U-20 team in 2012, for a friendly against Strasland. He is now a regular starter for the team, using number 21. Nabil was called up to the senior team in 2014 for WFC 2014, and played as a substitute, scoring his first goal. He has since been called up twice, scoring once against Strasland.
Nabil is of Egyptian origin.
Community content is available under
CC-BY-SA
unless otherwise noted.