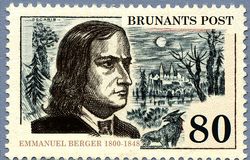 Emmanuel Berger (28 April 1800 - 23 April 1848) was a Brunanter pianist and writer of the Romantic period.
Biography
Edit
Berger started out as a pianist in the 1820s and composed his most famous work in 1834, Piano Concerto No. 4 (Wolf Castle). In 1836, he wrote the novel Wolf Castle, the story of a duke who transforms himself into a wolf and terrorizes his village. A later, though less successful novel was The Lost Island, about the Lost Island of Brunant. Berger was influenced to write after discovering Juan Brandis' works as a youth.
Berger lived rather prosperously in Koningstad. He married in 1827 to Barbara Walmer and had one son, but she died in 1832. In 1839, he remarried to Cristine van Holt. He was a rather heavy drinker and enjoyed it very much, especially on St. John's Feast. Berger died in 1848. Since then, he has become more famous for his music than his writing. Berger has been commemorated on a stamp in 1961 and has a school in Grunbeck named after him.
Community content is available under
CC-BY-SA
unless otherwise noted.