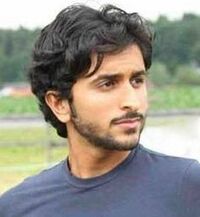 Hamid El-Mounir (born August 29, 1980) is a Brunanter billionnaire businessman.
Biography
Edit
El-Mounir was born in Koningstad to a Qatari father related to Qatar's royal family and a Brunanter mother of Jordanian descent. In 2008, his father purchased the club Dortmund SFC and Hamid went to manage his father's new club and became the president. His family's wealth has alowed the club to purchase star players like Ibra El-Zein and Hernan Crespo. In 2010 he acquired a 12% share in Maxi Group and later took over his father's 28% of the shares when he died. Hamid does not live in Dortmund but in Charleston Beach in the penthouse at the Ocean Apartments.
Personal Life
Edit
El Mounir married fashion model Silvia Summers and has one son and daughter with her. El-Mounir is considered to be one of the wealthiest people in Brunant, ranked second by Economy in 2014.
El Mounir is a great tennis player and enjoys going to the tennis courts with doubles partner Robert Hewton. He opened the Charleston Beach Tennis Club with Hewton in 2011 in Charleston Beach. The prince is a huge fan of cars and he has a Lamborghini Diablo, a Ferrari 360 and a classic Citroen. His regular car is a BMW sedan. He also narrated a documentary, Burning Earth. He winters in Cettatie, where he keeps his yacht, Khayal.
Community content is available under
CC-BY-SA
unless otherwise noted.