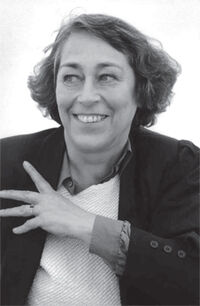 Hannah Jacobson (February 19, 1931 - April 9, 2002) was a Brunanter author. She is regarded as the most important figure of dark realism, alongside Henry Winston Cavell. She also wrote a crime fiction novel and three horror stories collections.
Biography
Edit
The daughter of the Brunanter Jews Benjamin Jacobson, a respected teacher, and Deborah Berkowitz, Hannah was born in Sint-Anders. They all escaped in the UK, shortly after the German invasion. She grew up in London and later in Oxford. After the liberation of Brunant in 1944, the Jacobson family returned in their home. Jacobson has acknowledged that the Parade of the Dead was a decisive factor in the configuration of her literary themes.
Hannah studied linguistics at the Grijzestad University, where she met her future husband, Pieter Adrichem, a law student. During her stay in Grijzestad, Hannah renounced Judaism and since then she has been self-described as an atheist. In 1957 she wrote her first novel (Creepy Laugh), which was rather a horror book, than a dark realism work.
National recognition came with The Three Widows, her first dark realism novella, published in 1962. Her reputation grew more during the 70's, mainly due to the success of her novel The Mischievous Butcher of Grijzestad (1976). She was soon described as the counterpart of Henry W. Cavell. Hannah reached her fame peak in the 1980's with Diary of a Psychopath (which earned her a Litprijs) and The Graveyard.
During the 90's, Hannah published only one novel, as she focused on short story collections. In 1999 she was diagnosed with cancer of the esophagus. She died in 2002, after a three-years fight.
Bibliography
Edit
Creepy Laugh (1957)
Black Joost (1960)
The Three Widows (1962)
Killing for Love (1966)
The Merry Murderer (1970)
Detective Dirix (1973)
The Mischievous Butcher of Grijzestad (1976)
Diary of a Psychopath (1981)
Garden of Fear (1985)
The Graveyard (1987)
Black Eyes (1991)
Short stories collections
Edit
A Macabre Book (1990)
Old and New Stories of Horror (1995)
Tales from Underground (1997)
Community content is available under
CC-BY-SA
unless otherwise noted.