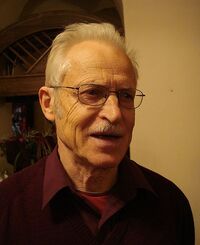 Harold Sullivan, artistic name of Harrison Woodrow Shalley, (28 May 1935 - 2 August 2012) was a Brunanter film composer. A self-taught musician, Sullivan is best known for his compositions for science-fiction films over 50 years. He extensively worked with Herbert S. Hosen and Antoni Wisnowski.
Career
[
]
Sullivan was born in Carrington, even though both his parents hailed from Charles Town. It is possible that his father was a black marketeer during the German occupation of Brunant; Sullivan never talked about his youth publicly. He started playing the piano and later the flute at his aunt's house, but he never took up lessons. On the same time, he was a cinephile and he had cited The Three Days as his favourite film.
Sullivan wrote his first film score for Hosen's It Came From Planet 68 (1956) and composed a few more scores during the late 1950s. His breakthrough came with the soundtrack for Paul Riesner's Escape from Mermaid Island (1963); the movie was quite successful and the soundtrack remains iconic. Sullivan went on to compose music for directors such as Antoni Wisnowski and Cristove Vianna. Perhaps, his best known film score is that of the award-winning Boisterous Nights (1999).
Sullivan's last composition was the music for John Fadaaq's Mob Wars (2006). He died from heart attack in his home in Koningstad.
Selected compositions
[
]