Hellraiser is a biography about film-maker Herbert S. Hosen written by Alexander Gray and first published in 1994 by Token Books.
Overview
Edit
Hosen, born December 10, 1933 was a Brunanter film director, producer, screenwriter and editor who often performed many of these functions simultaneously.
In the 1950s and 1960s Hosen produced a staggering amount of low-budget genre films, then and now generally considered "bad". Still, his flair for showmanship and his surprising and lasting ability to attract well-known actors and even big name stars almost always made his projects slightly successful, earning him and his work a considerable cult following, aided by his evident zeal and honest love of movies and movie production.
Hosen died on October 10, 1972, from a heart disease at the young age of 39, which was, according to a friend, "completely natural, since he'd lived twice as fast".
The biography sheds light on Hosen, his life and his work, and helped to cultivate the film-maker's growing cult status.
Dutch version
Edit
The Dutch version of the book, titled Herrieschopper, was released in 1996, with a different cover. It was translated by Gray himself.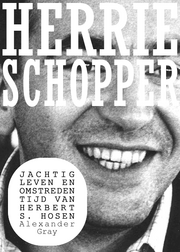 Community content is available under
CC-BY-SA
unless otherwise noted.