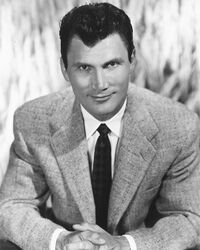 Henry Zielinski Jr. (30 March 1911 - 3 March 1973) was a Polish-Brunanter actor, who was famous in the 1940s and 1950s.
Biography
[
]
Personal life
[
]
Zielinski was born in Warsaw, Poland to Henry Zielinski Sr., an Anglo-Polish deli owner and his Irish wife. They came to Brunant in the 1920s.
He married fashion designer Ingrid Van Draak in 1948 and the two were together until his death in 1973.
Acting career
[
]
Zielinski began acting in the late 1930s, but only achieved success with the release of the biopic Carrington in 1949. By the late 1960s, his successes had waned, resulting in him starring in B-movies such as Bus 99 (aka Killer Bus) (1967) as a demonic murdering bus driver. Archive footage of Zielinski was used in the posthumous sequel Killer Bus II: The Reckless Return, released in 1975, since the actor had passed away two years before.