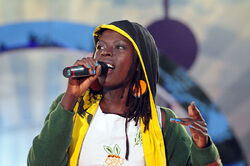 Regina Gbemisola Afolayan (b. January 7, 1980), commonly known as Ina, is a Nigerian-born Brunanter singer. The daughter of economic migrants, she started singing when she was 18 and soon rose to fame. She doesn't have a single musical style, as she performes hip-hop, reggae and soul.
Life and career
[
]
Ina was born in Lagos, Nigeria's capital. She is the oldest of three children, as she has two brothers (Sylvester and John). She moved with her family to Koningstad in 1990. Initially she only spoke English, but had no problem learning Dutch as well.
Ina realized her music talent at the age of 15, when she took part in a school play. Despite her parents desire to enter university, Ina chose to pursue a musical career instead. She signed to a minor record label of Dortmund in 1990 and she realeased her first single (Written in the Stars). It was very successful in underground scene, but her first album (Flowers of Heaven) brought much more fame.
Ina continued to release her works, but the real breakthrough was her Lilies in the Mud (1998). After that, she signed to Raconteur Records, becoming one of the first artists of the company. Her single Wait 'till the Morning (2002) reached #4 of Hit Parade 20 and with this Ina became a major figure of modern Brunanter music.
Several works followed, all quite successful. The album Born to Sing topped Hot Parade 20 for almost a week and was described as an an excellent mix of reggae and hip-hop. Ina's subsequent releases tended more to R'n'B, especially after her cooperation with Marco Loeff, for his single Big City Lights.
Ina's most recent album, Exquisite, didn't met with very good critics, but it is her most commercially successful work since Born to Sing, reaching #2 in charts.
In 2013, Ina recorded and produced a song, Freedom, in collaboration with Nadia Salman and Lovian DJ Virtual Beach for the Open Eyes and Ears for Tagog EP. She will perform the track at the Open Eyes and Ears for Tagog benefit on November 16, 2013 at the National Museum of Art, Koningstad.
Discography
[
]
EPs
[
]
Singles
[
]
Written in the Stars (1990)
The Way you Look me (1991)
Love Seeker (1994)
Lilies in the Mud (1997)
Wake 'till the Morning (2001)
Secret (2002)
Don't Believe a Word (2004)
Love is Blind (2005)
Lies, Lies (2008)
Studio albums
[
]