Jayne Bell
Vital statistics
Name
Jayne Bell
Sex
Female
Born
20 January, 1947 in Koningstad
Spouse
Edward Henning (1969-1971)
Vic Manley (1972-1976)
Mark Benley (1979-1984)
Nick Kuiper (1990-1999)
Occupation
Singer, model
Home
Miami, United States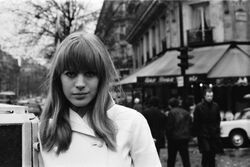 Jayne Bell (20 January, 1947 in Koningstad) is a Brunanter singer and model. She recorded music with Lyons/Bergstein from 1968 to 1972, and then with Stereophone (and subsidiary Juventus) until 1989.
Biography
[
]
Bell originally aspired to be a model. She entered the Miss Central Parish contest in 1967 and was in the top five models (winning would have allowed her into the Miss Brunant competition). When Lyons/Bergstein record executives saw her, they quickly offered her a music deal and the chance to become a celebrity. Bell soon gave up modeling to become a singer. Her first album, Oh No, became a Yeye hit; while she did not sing very well her looks and dancing made up for it. She released a second album in 1970 which was also a hit in Brunant; the single I Surrendered to Love was number one on the Hit Parade. In 1969 she married her longtime boyfriend Edward Henning. They would be together until 1971, when the stress of celebrity status and her career prompted them to separate.
In 1972 she married singer/actor Vic Manley. They were the most talked about couple of the year and appeared in celebrity magazines. She released another album that year, but it was more folk-pop in sound. She had her first child, a boy called Victor, in 1973. Manley died of a drug overdose in 1976 and Bell gave up singing for a while. Bell began acting and appeared in the Cristove Vianna's cult classic 20 Hours that year. In 1979 she married Mark Benley and they had a daughter, May, who would become an actress in the 1990s. She and Benley divorced in 1984 and Bell continued singing. She would marry once more, in 1990, to Nick Kuiper, a man some 15 years younger. They divorced in 1999. In 2002 Bell moved to Miami, Florida, where she now lives.
Discography
[
]
Oh No (1968)
The White Veil (1970)
My Love (1972)
Why Won't You Say It (1974)
Lonely and Sad (1976)