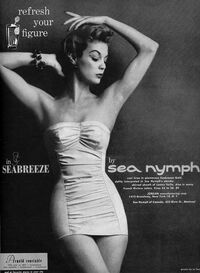 Jeanette Andreine Hardy (9 May 1928 - 13 January 1966) was a Brunanter model and celebrity active in the 1950s and 1960s.
In addition to her celebrity career, Hardy became famous for her car collection that she built up over 12 years. It became one of the largest private collections in Brunant.
Hardy was born to Brunanter radio star John Hardy (1889-1957) and French perfumer Nicolette Ricard (1897-1973). She began modelling for various photographers in the late 1940s and early 1950s and by 1953, she was in various magazines, and quickly became a favorite with the male readers. She came to model swimsuits and even a bikini in 1955, something that shocked most people. She appeared several times in Sterren. In 1956, she starred in It Came From Planet 68, her only acting job.
Hardy died in 1966 while driving her Engel Pacific from Koningstad to Cape Cross; she lost control on the winding roads and crashed her car.
Hardy was married six times in 15 years. In 1951 she married photographer Lucas Horne, whom she divorced in 1952. She married Hungarian actor Anatole Bircamp in 1953. She would leave him in 1955 after an affair of his was exposed (a divorce came in 1956). Her third husband was banking magnate Fabien Mathers (of the Mathers family). Their unhappy marriage resulted in a large divorce case in 1960 and she would get a 11,000,000 Th. payouts. Her fourth husband was dentist Jan Strootman, who was arrested in 1963 for fraud (and their marriage annulled). She then married Baron Philip Elteman in 1964 before leaving him (and taking 18,000,000 Th.). After a brief romance with film director Herbert S. Hosen, she married footballer William Rodman.
Community content is available under
CC-BY-SA
unless otherwise noted.