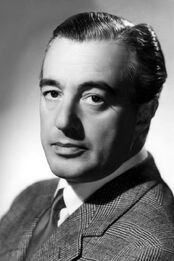 Joseph "Joe" Bertin
(19 September 1892 - 12 December 
1966
) was a
Brunanter
actor famous in the silent film era of the 1920's and the 1930's.
Biography
Edit
Bertin was born in Koningstad to a poor family that immigrated from Belgium in 1889. He worked as a desk clerk at Ambroos Station from 1911 to help out his family that was poor.
In 1914 he was in one of the earliest Brunant films, From Rich to Poor, about a millionair that loses everything and becomes poor. He rose to prominence by 1920 and in 1924 was the highest paid star in Brunant. He lived in a nice city house in Koningstad and owned a Rolls-Royce and a Dramont Type 1 and even a motor boat. In 1926 he married American oil fourtunes heiress Barbara Barkley and were a sensational couple of the year.
In 1928 and 1929 he could not make the transition to films with speaking parts and his career would be over. Because of his terrible speaking skills, his wife hired him a language coach and he by 1932 he was acting again and would take the star role in that decade's top film the tragedy biography movie The Republic. He also had a few role's in the 1940's but he retired in 1952.
Personal life
Edit
With Barbara Berkley he had 2 sons, Louis (1927-1999) and Joseph Jr. (born in 1930). He also had a relationship with actress Josephine Berner in the early 1920s and had a son, Martin. In 1923 he was in a brief relationship with Luisette Springland.
Community content is available under
CC-BY-SA
unless otherwise noted.