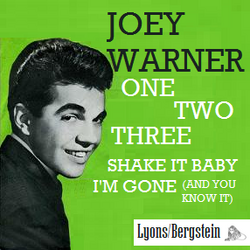 Joseph Warner (1940-2011) was a Brunanter musician and entertainer. Warner was one of the most famous musicians and the one who introduced popular American music to Brunant.
Biography
[
]
Joey Warner was born in Middleton in 1940. Warner began singing at the age of eight and in 1958 was signed on to the fledgling Lyons/Bergstein label. Warner originally released American-style jazz and rock-and-roll music, but his songs were unsuccessful. Warner was about to give up music when he recorded the album One, Two, Three in 1963.
One, Two, Three differed from his earlier music since it was mostly twist music, which was relatively new to Brunant. He also recorded a ballad, I'm Gone. The album's namesake single shot up to number one in the Hit Parade charts. After a well-publicized appearance in The Hit Parade Show, I'm Gone went up to number 7 and this was the first time one artist had multiple songs in the top ten at once.
His second album, Shake it With Joey contained the hit song C'mon everybody, which got Brunanters twisting and shaking throughout 1964.
Personal life
[
]
In 1968 he married Cetatian singer-actress Françoise Biennot and had a child in 1969. They divorced in 1972.