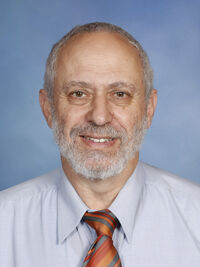 John Snyder Schwartz (2 March 1954 in Gronigen) is a Brunanter politician and investor. He is a member of the libertarian party Front For Freedom and the Representative in Congress from Central Parish.
Biography
Edit
John Schwartz was born on March 2nd, 1954 to Johann and Elisabeth (nee Cooper) Schwartz in Gronigen, Central Parish. He is of Swiss and English Borderer descent.
Political career
Edit
Schwartz became interested in politics as a young teenager and joined the CU at age 23. He was elected Representative of Central Parish in Congress three consecutive times before switching his allegiance to the Front For Freedom. However, he did not run for reelection after this and instead went to St. Andrews University and gained a Ph.D in both Economics and Byzantine History. Upon his return, he ran on the FFF platform and won by his highest margin (9%) yet.
Quotes about him
Edit
"An eloquent and well-spoken individual, and highly opinionated when it comes to economics. Thing is, he's an egotistic ass in debates and thinks a billionare should pay the same in taxes as a single mother of four working two jobs to keep food on the table. You decide if this man should be reelected or not." - Gerald Henley
"One of my closest friends. Only John can take the insult "You are an egotistic ass" and reply, "Yes I am, because I'm right." - Eric Peitersson
Community content is available under
CC-BY-SA
unless otherwise noted.