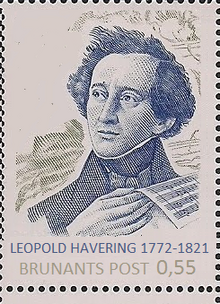 Leopold Havering (1772-1821) was a Brunanter composer of the early romantic era. He is one of the best-known classical Brunanter musicians alongside Berger and Telemann.
Biography
[
]
Havering was born in Markstad to a family of English Borderers descent. Havering's father served in the Royal Guard during the Borderers Revolt in the 1770s and 1780s and his mother stayed at come caring for him and his 7 siblings.
Havering was passionate about music from early on, but in the 1790s his father forced him to join the military. Quickly unhappy, he deserted around 1795 and moved to Koningstad to write music. In 1798 he gave a concert to the Count of Drenthe; impressed by his playing he recommended him to King Adrian II. He gave a concert to the King in 1799, but he was not impressed. His son Ambroos, though, really enjoyed his romantic playing style and hired him to write a orchestral symphony for him.
In 1800 Ambroos became the King and was quick to appoint Havering the official court musician. Being a patron of the King, Havering set out to compose and direct very large and successful symphonies. Between 1804 and 1820 he wrote seven symphonies, including the famous Symphony 7 (The Thunderer). Havering also wrote 64 other musical pieces during this period, most which were highly popular during that time.
In 1803, Havering married Charlotte Stewart, who came from a wealthy middle-class background. With Stewart, the couple had six children, their youngest being born in 1810. Havering devoted his time between music and family, but by 1818 he had acquired Bronchitis and became unable to compose much. After writing his Symphony 7, he became badly ill and remained bedridden until March 1821, when he died at the age of 49.
Legacy
[
]
Havering's works are now considered a standard for Brunanter classical music. His music is the focus of a "Garden Concert" at the Realpaleis each summer. Havering's image was put on the 50 Thaler note (series 1987). He was also featured in a 55 Euro-cent stamp in 2005. And also some of the original music papers of him are in the State Museum.