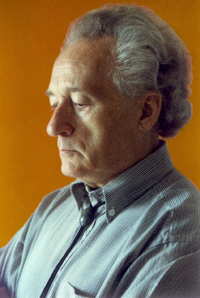 Martin Carlotti Velez (11 December 1928 - 23 August 2014) was a Brunanter composer, conductor and pianist. He had been active for over 50 years and wrote music for a plethora of famous Brunanter films. His music is widely known internationally as well. Carlotti was often known as "Maestro".
Biography
[
]
Carlotti was born in Dortmund to an Argentinian family who had emigrated in the mid 1920s. In late 2017, though, documents were released that placed his birth in Argentina instead. He had an older brother, Nicolas (1926-2009).
Loving in Bern, Switzerland, from 1947 or 1948 to 1953, he met piano teacher Rosamund Zuber (b. 1925), marrying her in Lucerne in 1952.
Rosamund died in Koningstad in 2007. Carlotti died in August 2014 at the age of 85.
Career
[
]
Early career
[
]
Carlotti studied music in Bern, Switzerland in the late 1940s. There, he began writing some compositions of his own. Carlotti moved back to Brunant in 1953, taking up a post as music teacher at the Royal University of Koningstad. From 1957 to 1962, Carlotti was an occasional conductor of the National Theater and had opportunities to showcase his music. It was during one of these concerts that he was approached by Joseph Losenberg to work on a film score.
Entry to film
[
]
In 1961, Losenberg and Carlotti worked on the score for the well-received Adenis and Virsise. He composed the music for Monster Hospital, a black comedy family film by cult director Herbert S. Hosen, which opened up his opportunities to other films (as well as the follow-up TV series). Later, he would work with Hosen again for both low and big budget projects such as Bus 99 and The Last Temptress, co-write the music on The Lovebird (with Anna Lindbergs), as well as for the Lovian films Agent Zero and Agent Zero: back in action.
Later films
[
]
With Peter Hess, Carlotti was involved in writing the music for Cristove Vianna's The Magician, as well as in the hit film The Wolf. More recently, he wrote and directed the music for History of a Mob Wife and for the Lovian film Kingpin.
In 2005, he was presented with a rare honorary award from the Rosetown Film Festival for his contributions to music in film.
Works
[
]