Martine Pender

Vital statistics
Name
Martine Elisabeth Pender
Sex
Female
Born
11 November 1946
Spouse

Pierre Leclerc

1966-1967, 1970-1995
Occupation
Singer, songwriter
Home
Grijzestad, Chester Parish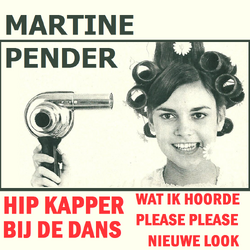 Martine Pender (born 1946) is a Brunanter singer-songwriter famous in the 1960s and 1970s. She was one of the leading musicians of the Yeye genre in Brunant in the 1960s.
Biography
[
]
Early life
[
]
Pender was born to a musical family in Grijzestad who encouraged her to pursue music from a young age. She entered a talent show in 1962 and came first in the competition; this proved to be her incentive for pursuing a musical career. In 1964 Stereophone executive Sam Lévis approached Pender after seeing her sing and gave her a professional music contract. It is believed that she was involved in some sort of relationship with Lévis. This would be the last accusation before his arrest in 1965[1].
Career beginnings
[
]
Pender began recording songs in 1964 but only released an album in 1965, titled Ons Beiden (Both of us). While not commercially successful it allowed her to become better known. Her second album, Hip Kapper (1966) was a number one hit in Brunant. She continued recording through the 1960s and early 1970s. Most of her music was very successful during this period.
Marriage and personal crisis
[
]
In 1966 she appeared in the film Both of Us alongside French actor Pierre Leclerc[2] She and Leclerc became romantically involved and were married in September 1966. There were soon big problems in their marriage. Leclerc became involved with other women, 20-year-old Pender went through a much publicized and criticized abortion and became addicted to drugs. This culminated with divorce in July 1967. She stopped appearing in public and it was only until March 1968 that she made a public appearance again. By then she had stopped the drugs and began writing some songs to record.
Return to music
[
]
Pender released an LP in 1968, marking her return to the music scene. She had a few hits but none were as popular as her pre-1968 songs. In 1970 she remarried Leclerc in a private ceremony. They had three children together. She stopped recording songs in 1973 ("Gebabbel" with Paulo) and did a bit of acting before retiring in 1976. In 1985 she began giving concerts again and recorded some adult-contemporary music in the late 1980s.
Discography
[
]
Albums
[
]
EPs and singles
[
]
Notes
[
]
↑ Lévis was involved in romantic and sexual relationships with several underage girls, most notably with Anna Lindbergs. Believed to be rumors or false accusations, police eventually found out the truth and had him arrested.
↑

The film had the same name as her first single.