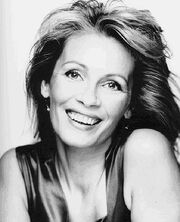 Mathilde Norup (3 May, 1954) is a Danish actress, who has been living in Brunant for thirty years. She is known for her work with Abe Costello, with whom she is married since 1987.
Biography and career
Edit
Norup was born in Svendborg, the second daughter of a pharmacist. While studing journalism at the University of Southern Denmark, she was seen by a talent scout. As a result, Norup moved to Copenhagen to become an actress. However, she had only two sidekick roles, before moving to Italy, in 1979. She continued playing minor roles, in some well-known horror films.
In 1983, Norup moved to Koningstad, after accepting a leading role for a low-budget exploitation film. She was then discovered by Costello, who gave her a minor, but pivotal role in Dr. Le and his Women. Her performances in Paul Riesner's The Mysterious Mr. Koegler and Samuel Burke's Anger made her quite famous in Brunant. In 1986, Norup starred in the commercially successful Angela and Clara. She became a sex symbol and hence she appeared completely naked in the Stark magazine. Her last film came with Evil Unlocked, a horror movie, filmed in 1995. During the 2000's, Norup had a few guest appearances in TV shows.
Personal life
Edit
During her career in Denmark and Italy, Norup had several affairs with actors. In 1986, she married director and screenwriter Abe Costello. She gave birth to a son, Filipo, the very next year. Famously, Norup has never taken up Brunanter citizenship, choosing to remain only Danish.
Filmography
Edit
Community content is available under
CC-BY-SA
unless otherwise noted.