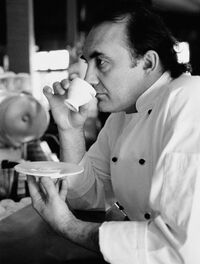 Max Hassel (born 19 October 1954) is a Brunanter chef and restaurateur. He owns several restaurants, which are considered to be among the best places to dine in wikinations. Hassel is considered the most popular celebrity chef in Brunant.
Biography
Edit
Hassel studied cuisine in Brunant and Austria, opening his first restaurant in Salzburg in 1980. He moved back to Brunant in 1985 and founded the restaurant MH in Koningstad. This became a successful restaurant, as one of the first restaurants serving "new" Brunanter cuisine. He closed down the restaurant in 1999.
In 2002, Hassel founded Le Marquis at the De Grasse Hotel in Cettatie. It has become a popular and well-reviewed restaurant, not only for its cuisine, but also for its service and reasonable prices.
In 2005, he founded the Old Port Bistro in The Port, Koningstad. This restaurant was a sensation and quickly earned him the top position on the Monde Culinaire "Best 10" list. Newer restaurants have since dethroned Old Port Bistro, but it is still considered to be among the best in Brunant. Hassel opened a restaurant in Ferguson Beach Village, Lovia in 2014, Conundrum, which serves regional food with certain Brunanter flavors.
Personal life
Edit
He lives with his wife and disabled son in The Port, Koningstad, in one of the lofts at 4 Mediterranean Avenue.
Community content is available under
CC-BY-SA
unless otherwise noted.