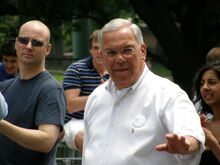 Michael Boston (born 27 July 1954, Grijzestad) is the 24th and current Mayor or Charles Town.
Biography
Edit
Boston was born to a family of Borderer origin in Grijzestad Hospital. When he was 4 they moved to Charles Town. He joined the local police force in 1975 and he later joined the Chester Parish wing of the National Police, eventually becoming an Inspector in 1987. He entered politics in 1991, joining the Free Liberal Party (FLP). In 1994 he was elected mayor and would be re-elected in 1998, 2002, 2006 and 2010. In 2005 he left the FLP and campaigned as an independent. He was elected again in 2014 for an unprecedented sixth term. He announced he would retire from politics by 2018.
In 1980 he married Martha Hildenberg and they have three children: Anna (1981), Alexandra (1983) and Martha (1986).
Community content is available under
CC-BY-SA
unless otherwise noted.