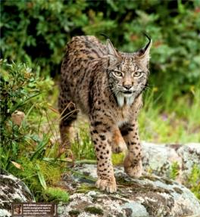 The mountain lynx (Lynx raspensis) is a medium-sized wild lynx species native to Central Island, Brunant. A very rare cat specie related to the Iberian lynx, the mountain lynx is historically known as the Raspenberg lynx. Originally, the animal inhabited large portions of western and southern Central Island, but hunting by humans reduced its numbers and forced the mountain lynx further up into the Central Ranges.
Characteristics
[
]
The mountain lynx resembles other lynx species, with a short tail, tufted ears and a ruff of fur beneath its chin. This lynx is just larger than the Iberian lynx, but is smaller than the Eurasian and Canadian lynxes.
History
[
]
The species was first described by Carl Linnaeus in 1758.
Humans began hunting the mountain lynx in the early 17th century, as the lynxes began to chase farmer's livestock. Extreme hunting saw numbers falling to around 1,200 in 1800 to under 500 in 1910. By then, most of the lynxes were confined to the Central Ranges in the Mariaberg Parish and the southern Central Parish.
Distribution and conservation
[
]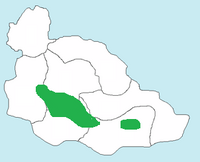 Awareness of the mountain lynx' precarious state raised in the 1960s and conservation efforts were undertaken from the 1970s on.
In 1973, there were an estimated 62 lynxes, all confined to the northern Central Parish. In the early 1970s, the lynxes were extremely endangered and they were slowly introduced south and west, and by 1980, a small group of lynxes was breeding in the eastern Helmond Parish. The government passed legislation in 1977 making it illegal to hunt lynxes, and efforts to take this into effect have been largely successful. In 1991, the Mariaberg National Park was enlarged, which helped to protect the species.
In 1988, a previously unknown separate population of about twenty lynxes was found isolated in the eastern Sint-Willemstad Parish. Today, the population of these lynxes has risen to around 280 or 300. While still at a rather low number, the population is steadily rising.
The mountain lynx is listed as a vulnerable species by the Wikinational Conservation Organization.