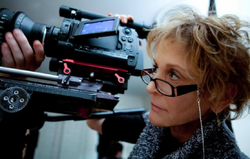 Nathalie Jonker (24 March 1950) is a Brunanter film director, screenwriter and cinematographer. She is best known for her award-winning films The Tears of a Clown (1987), Aquarelle (1991) and Shadow Children (1996). Her most recent work The Black Butterfly also won four awards at the 2013 Rosetown Film Festival.
Education and early steps
Edit
Jonker attended the Royal Academy of Dramatic Arts from 1968 until 1971. While there, she met future actor Michel Bircamp, with whom she later worked in Aquarelle (1991).
Jonker quickly gained the reputation of a very talented cinematographer, working in films such as The Crimson Blouse (1980). She had her directorial debut in 1984, with the film The Unknown Man, which received mostly negative critics. Her next film, Outside the Garden (1985), was her writing debut and was received much more better.
In 1987, Jonker directed The Tears of a Clown, based on the true life story of Davoud and Joanna Gorga, a pair falsely accused of the Barzona Libre's Ambroos Station bomb attack. The film was a critical and commercial award, winning two awards at the Rosetown Film Festival. Four years later, her drama film Aquarelle won Barker Awards for Best Screenplay and Best Actress (Karen Jobse-Veerman).
Jonker's next work (I Don't Remember - 1993), a mystery film starring Josep Olente, was not successful, but today is considered one of the most underrated films of Brunanter cinema. In 1995 she worked as cinematographer in John Fadaaq's award-winning The Wedding (1995). She subsequently directed The Shadow Children (1996), a heart wrenching drama about a psychologist's work in an orphanage. The film won three Barker Awards, including that of Best Film. It was also selected as the Brunanter entry for the Best Foreign Language Film at the 69th Academy Awards, but it did not make it to the final list.
Later years
Edit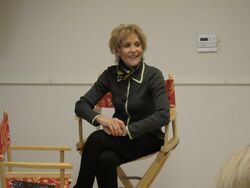 Jonker went on to direct three more films, before working as a cinematographer for the historical drama miniseries 1663. According to an interview, she was offered the directorial post, but she refused for personal reasons. Her 2006 film The School Choir was nominated for the Barker Award for Best Actor (Pieter Marsman).
Jonker has made three movies in the 2010's so far. Her first two, The Mountain People (2010) and The High Fence (2012) received mixed critics. In 2013, her latest film was released; The Black Butterfly, starring Filip De Rycke, won several awards at the Rosetown Film Festival, including that for Best Film.
Personal life
Edit
Jonker married BBN newsreader John Molton in 1982. They had a daughter in 1984 and now have grandchildren.
Selected filmography
Edit
Community content is available under
CC-BY-SA
unless otherwise noted.