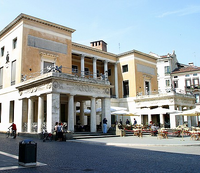 The National Theater is a theater for the performing arts in Koningstad, Brunant. Located at the Cathedral Plaza in Grafstad, it was built from 1790-1794 and designed by Victor Janowicz as part of his "Koningstad master plan".
Since the 1960s, some small cafes and restaurants have popped up on the cafe steps and at the plaza, including a branch of the popular Verona Coffee chain.
The theater is where the Royal Brunanter Ballet usually performs.
Community content is available under
CC-BY-SA
unless otherwise noted.