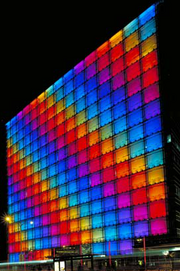 Newtown is a modern neighborhood of Koningstad. It is designed to be eco-friendly and full of tall towers. The newstown area saw limited development in the 1970s and 1980s but was remodeled under a new plan in the late 1990s, seeing the construction of mostly modern buildings.
A new international airport, Koningstad International Airport, is located just south of here due to the former transportation difficulties of traveling to VDIA. Newtown is expected to lure businesses here for the eco-friendly buildings; the businesses move in to an eco-friendly building to strengthen their reputation. Many of Newtown's buildings are innovative and unique in design, with a large proportion of sleek modern buildings. Furthering the quarter's innovation, a charging station for electric cars was added at the corner of Van Draak Street and West Charles, the first in Brunant.
Neighborhood map
Edit
See the page Map colors for an explanation of what each color means.
Community content is available under
CC-BY-SA
unless otherwise noted.