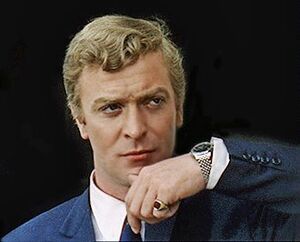 Oliver Hewton (born June 28, 1945) is a famous actor from Brunant that acted in many movies, from the 1960s to today.
Biography
Edit
Hewton was born in Cape Cross in Cape Cross Hospital. He was born into a family of English origin. His father John was a professional boxer who ran an anti-German secret radio station. He was killed in February 1945 by the Nazis, one month before Oliver's birth. His mother was a nurse who worked in the hospital.
Acting career
Edit
Hewton became active in the early 1960s as an actor, appearing in commercials for several companies. His breakthrough was in the 1964 war film Up in Arms about the German Invasion of Brunant. This movie was a huge success and soon he followed it up with other acting roles in TV series, most importantly as the main character in Inspector 64, which originally ran from 1969 to 1975. Hewton also had a notable guest role in the sitcom Monster Hospital and won the Barker Award for Best Supporting Performer for his role in Antoni Wisnowski's My Last Bullet, in 1988. In 1989 he ws in the movie Thaumaturge sa the court sorcerer.
Hewton is a lifelong bachelor and was known to be a womanizer, though he only had very few serious relationsips and one son, Robert Hewton, a tennis player. In 1977 he fell in love with a woman from Lovia, Martha Henning. They have remained together since and he now splits his time between being in Lovia with her and in Brunant with is mother and son's family. In Lovia he became active in such films like Dinosaurus Rex and The Age of Discovery. He will also star in the upcoming political drama about Gert Henneman, "Election Day ."
In te 2000's he became a congressman and in the 2009 General Elections was elected with the Socialist Left Party. He's now the leader and is in the 2013 General Elections with John Sayer.
In 2013 he is planing to direct his first movie which is based on the story of Mateus Brasefort.
In 2020 Hewton stepped down as leader of the Socialist Left Party, citing his age and saying the party would benefit from a "new generation" of leadership.
Family Tree
Edit
The family of Oliver Hewton came from Great Britain but some of his ancestors were related to the Van Draak Family and the Royal Family of Brunant but of manyu generations back. His Grandmother Hannah was the daughter of Nicholas Magnusson and he was the grandson of King Cristian I (Oliver is the Great Great Grandson of the king).
Alexander Hewton (1880-1965) X Hannah Magnusson (1883-1969)
John Hewton (1918-1945) X Jane Roberts (1920-1980)
Oliver Hewton (born 1945) and Angeline Morris (born 1950)
Robert Hewton (born 1976) X Vicky Lewis
He is the uncle of Kirsten Holtby an olympic swimmer, who is his sister Caroline's daughter.
Community content is available under
CC-BY-SA
unless otherwise noted.